Paper Hero
Performance, bugfixes and Ghost Buff
---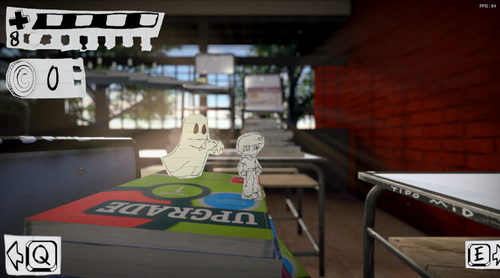 Hi people! Thanks to your feedback in your gameplay videos, I made a bugfix update resolving some issues I've seen happening, which include:
Falling bridge behavior being strange/missing collision with the books when they are returning
Missing explanation that F key is used to attack with fireballs (now there is a drawing on the desk where you spawn stating that)
Weird collision with the chairs and desks where you climb
Zip line trigger being too short
No indication that there is nothing behind the door (I know, that book trail is very tempting :P )
Missing lights in "Fastest" quality
Alongside that, I also made some other changes:
Added loading screen
Cleaned the inputs in the Input tab of the launcher
Improved performance in lower quality levels by disabling some post processes
Reduced the size of the FPS counter text
Translated texts to English (they were in Portuguese before, I forgot to do that before releasing)
And mainly, after seeing the gameplays, I realized that the ghosts were kind of pointless when you could defeat them with one hit, so I increased it to seven fireball hits, making them way more challenging when using the fireballs.
And that's it for this update, thanks for everyone that played it, and I hope you like it!
Until next time...
Files
Paper Hero 2.2d.zip
107 MB
48 days ago